Dear Colleague,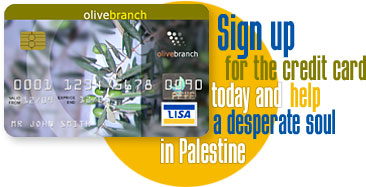 We are pleased to announce the proposed launch of the Olive Branch Credit Card.
This credit card is especially designed to help the Palestinian people around the world, and it won't cost you a penny!
Here is how it works: For every £100 worth of transactions, the bank will donate 25p to a nominated Palestinian charity (such as MAP, ABCD, IAC etc.) which comes out of banking profits, NOT out of your pocket!
In order to meet the requirements of the bank, we need to provide them with a list of 100,000 people who are willing to support the project by signing-up for the Olive Branch card.
To make this project a reality, please click here and fill in the form.
The Olive Branch Credit Card will be launched shortly after we reach ourtarget of 100,000 people so a swift response will be greatly appreciated.
Many thanks for your support,
The Olive Branch Credit Card Team